Configure your website so you can ship Electra Bikes to consumers.
On April 21, 2020 Electra announced a temporary update to its internet sales policy allowing qualifying US Electra retailers who have a signed Electra dealer agreement to both sell and ship direct to consumers complete Electra brand bikes that are sold online.

Because NOT ALL Electra dealers are allowed to ship bikes, SmartEtailing is not able to adjust settings within our catalog that automatically apply to your website. If you are an Electra retailer who qualifies, please follow these instructions to configure your website.

To learn more about Electra's policies, please contact Electra directly.
Configure Your Website
Follow these instructions to override the default settings for the Electra brand to make the bikes shippable from your website.
In Admin, navigate to brand settings and locate Electra in the brands list.
Under Fulfillment Methods, select "Override SmartEtailing Settings."
Under Managing Fulfillment Options, modify your settings to enable shipping on all bike categories as seen below.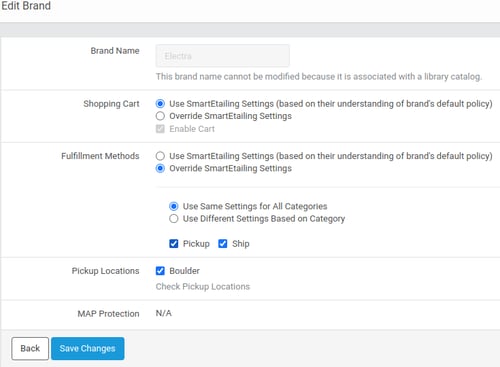 Shipping Bikes
If you are shipping bikes for the first time, we recommend that you read this article on configuring a shipping method for bikes.
Google Shopping
These bikes will now be eligible for your Google Products feed. Once your website is configured, regenerate your Google Products File to ensure they display.
This article was created as a part of our COVID-19 rapid response strategy. We continue to explore options to provide you with more flexibility and control for shipping bicycles.